FASHION FOUNDATION
COURSE/

PROGRAM
"Be Prepared for Your Fashion Education"
We are the premier destination for students who want to start a successful journey in the fashion industry.
Join us today and discover the difference that Milan Fashion Campus can make in your study & career!
Preparatory Fashion Program
​
What is a Fashion Foundation Program?
Preparatory courses are created for students without prior knowledge or experience in the field. If you are thinking of enrolling in a University to study fashion but you are not sure this is the right path for you or you simply would like to learn the basics, this is the right course for you. This an intensive course that will teach you all you need to know in a little over 3 months, preparing students to also make the most of their time in university by having a headstart and advice from fashion professionals & graduates. Our foundation course helps students to have an idea of which area of industry they would like to focus on.
Programs:
1st part: Trend Forecasting
​
​
Our Trend Forecasting course is about learning how to research trends, interpret and being able to apply them to their personal creative process. It will help students to develop their visual sensibility and observation skills to be able to identify new upcoming trends, customers, cultures, and lifestyles through trend analysis and connect it to their styling & designing work. Participants will learn how to define the next season's trends.
​
​
2nd part: Women's Fashion Design & Collection Design
This section will be about fashion design, both freehand and with a computer. After learning the main aspects of research and analysis, students will be directed into the world of design in order to provide them with complete knowledge on how to create a collection. This part will allow students to translate their creative ideas into a visual presentation with illustrations and drawings. During the Collection Design course, students will be focused on a special project for a defined brand, using real fabrics, to create a collection to include in their portfolio and useful for future interviews. It will be the way for the designers to communicate with the audience.
3rd part: Portfolio
​
​
​
​
At the end of this program, participants will acquire knowledge and tools useful to communicate through a media project. Students will understand the importance of an Online Portfolio after the course, when they will start their own adventure in the fashion field. They will learn how to collect all of their documents and decide the best way to present them.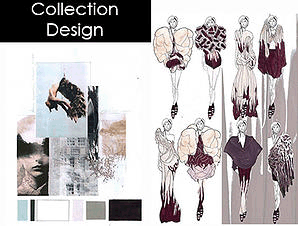 Course Duration & Fee
2 weeks - Fashion Trend Forecasting
4 weeks - Women's wear Fashion Design
4 weeks - Women Collection Design
​
2 weeks - Portfolio
Duration 3 months (12 Weeks)
Course Fee 8.900 euro*
*still have to be included in the price: 22% Tax & 150 euro Enrollment Fee.